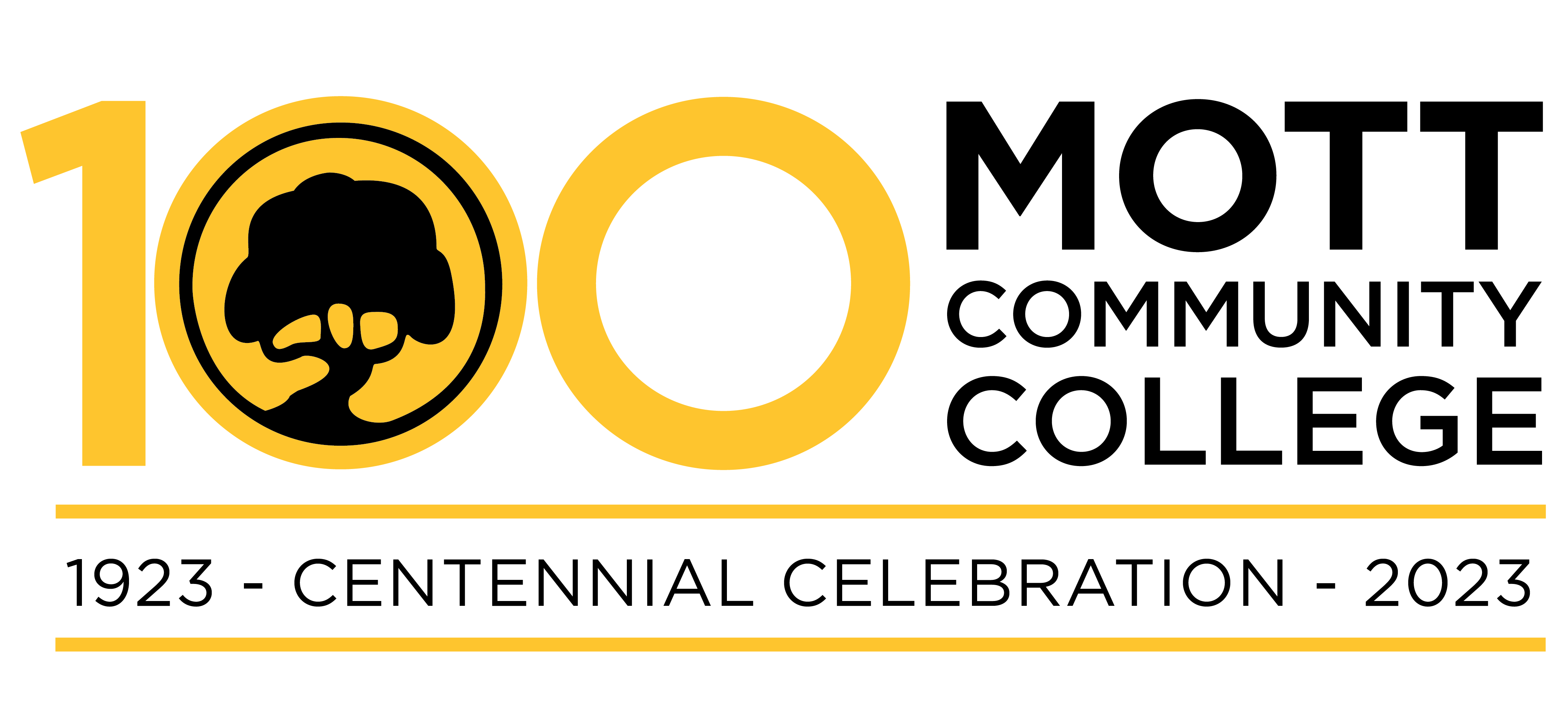 Celebrating

100 Years!

On September 23, 1923, the first group of students began taking courses at Flint Junior College (now Mott Community College) in the still small, but rapidly growing, City of Flint.

100 years later, MCC is still changing lives for the better by providing high quality, accessible, and affordable educational opportunities to what is now the greater Flint community and well beyond.
As we approach our 100-year anniversary on September 23, 2023, we celebrate with events including the monthly Centennial Lecture and Concert Series, Centennial Year of Service and the Centennial Gardens & Murals Projects.
Save the Date!
September 22, 2023 join us at the Capitol Theatre for the 2023 Mott, Motown & More Celebrity Lip Sync Reunion Tour, including a show and dance party. Visit the FIM Ticket Center to reserve your seat. Sponsorship opportunities available by contacting The Foundation for Mott Community College, (810) 762-0425.
September 23, 2023 will be a full day of activities. Kicking it off at 10:00am, we will have a parade from UM-Flint's William S. White Building parking lot to the MCC campus on Court St. Register your organization for the parade and show us your community pride.
Then the Centennial Festival and Open House Noon to 4:00pm, with food trucks, car show, craft show, tours, activities, games, prizes, and live music. Don't miss the Dave Bennett Quartet concert at 6:00pm in the Mott Memorial Building Auditorium. At dusk, we close out the festivities with a fireworks display over Kearsley Park.
The entire community is invited to celebrate with us throughout the day. Please join us as we commemorate the past, look forward to the future, and ring in our second century of learning and service!!!
Craft Show The craft show is from 12:00 PM to 4:00 PM in the Event Center located on the east side of the Mott Library.
Parade Route: The parade starts at 10:00 AM at the corner of Saginaw and 5th Avenue (the UMF White Building parking lot), goes south on Saginaw over the river to Kearsley Street - turns east on Kearsley and goes thru UMF's campus to Crapo and turns south again to Court Street - at Court it turns east and crosses Gilkey Creek and turns onto Horrigan Drive where it ends in the parking lot behind the Mott Memorial Building.
Centennial
Facts
100 years of facts about MCC
13
In 2016 MCC hosted its first visiting Fulbright Scholar, Dr. Tomoyo Nakao of Okayama University, Japan. Since then, MCC has also hosted Fulbright Scholars from Ukraine, India and China.
17
Dr. Beverly Walker-Griffea is the first female and first African American president in Mott Community College's history.
4
Tuition for the first year was $20 per semester with a $3 athletic fee. Non-residents paid $67.50 per semester
21
Coach Schmidt's 753 victories in 30 seasons at MCC are the most by any men's coach in Michigan college basketball history, including four national championships.